Rivers bring life to communities, and the Mississippi River is an essential part of life for much of the United States. It plays an integral role in industrialization and hydropower and provides recreational opportunities for ten states.
Have you ever wondered what lives at the bottom of the Mississippi River? Fish, reptiles, amphibians, mammals and plants live in this mighty water. Plus, discover the most exciting creatures lurking beneath the surface.
A Snapshot of the Mississippi River
The Mississippi River is the second longest river in North America and rises in Lake Itasca in Minnesota. It flows more than 2,000 miles south until it reaches the Gulf of Mexico, bordering or passing ten states on its long journey.
Fifty thousand years ago, the center of the United States was covered by an inland sea. The Mississippi River and its many streams have drained this sea into the Gulf of Mexico, leaving behind extensive flood plains. These areas like Louisiana now contain incredibly fertile soil.
Native Americans lived around the Mississippi River for thousands of years, and some had even started more advanced and modern civilizations. During the 16th century, European explorers and settlers drove them from their homes and used the river for transportation and communication. In the 19th and 20th centuries, there was a significant increase in engineering work and steamboats transported goods for agriculture and industry.
In modern times, we have seen significant pollution from agricultural waste, which is the main contributor to the dead zone of the Gulf of Mexico. Besides pollutants, what makes this river dangerous and do you have to swim in it?
Is the Mississippi River Dangerous?
The Mississippi River can be dangerous to swim in. This river has powerful currents that can sweep vehicles away. When people are in the water, the current pushes them at an intense speed. That water that moves you can easily send you underwater, fighting for breath. You must wear a life jacket and do not leave children unattended.
If you are swimming in this river, rangers advise you to keep your mouth shut and not to swallow any water. Sewage, industrial waste, farms and urban overflows pollute the river year round. These pollutants have contaminated many fish populations and contain mercury and other chemicals. Ingesting river water or consuming too much fish can cause flu-like symptoms.
What Lives at the Bottom of the Mississippi River?
Perch, clams, crayfish, phytoplankton, and many other fish and crustaceans live at the bottom of the Mississippi River. The water depth varies depending on where the river flows, but the average depth is 3 to 12 feet (3.66 m). There are over 120 species of fish in the Mississippi River, and you can find them everywhere. Some of the most unusual creatures to find in the great Mississippi include alligators, sharks, blue catfish, gulf sturgeon, and paddlefish.
alligators
American alligators live in swampy wetlands around the Mississippi River. However, it is not known how far north their range is. Native to the southeastern United States, these crocodile-like reptiles prefer tropical or subtropical freshwater swamps such as swamps and swamps. These apex predators can weigh over 1,200 pounds (0.54 t) and grow over 16 feet (about 5 m). Most alligators will not attack humans until they feel threatened. Do not enter the river if you see an alligator; try not to feed it.
bull sharks
According to many experts, bull sharks are the most dangerous sharks in the world. They often live in water where many people recreate, and they can be very aggressive. Most people see bull sharks in warm, shallow ocean waters, but they are known for making their way into freshwater streams and rivers. This species will eat almost anything, including other sharks, and will even attack a human. However, it is rare. Officials have captured only two bull sharks from the Mississippi River in the entire 20th century.
Blue Catfish
Weighing up to 150 pounds (approx. 68 kg), the blue catfish is the largest of its kind in North America. Native to the Mississippi River, this colossal fish is one of the few species in this water that can eat Asian carp (an invasive species). This catfish is considered a pest and lives up to 20 years, eats almost anything and can survive in a variety of environments. The largest blue catfish ever caught from the Mississippi was 131 pounds (approx. 59 kg).
Gulf sturgeon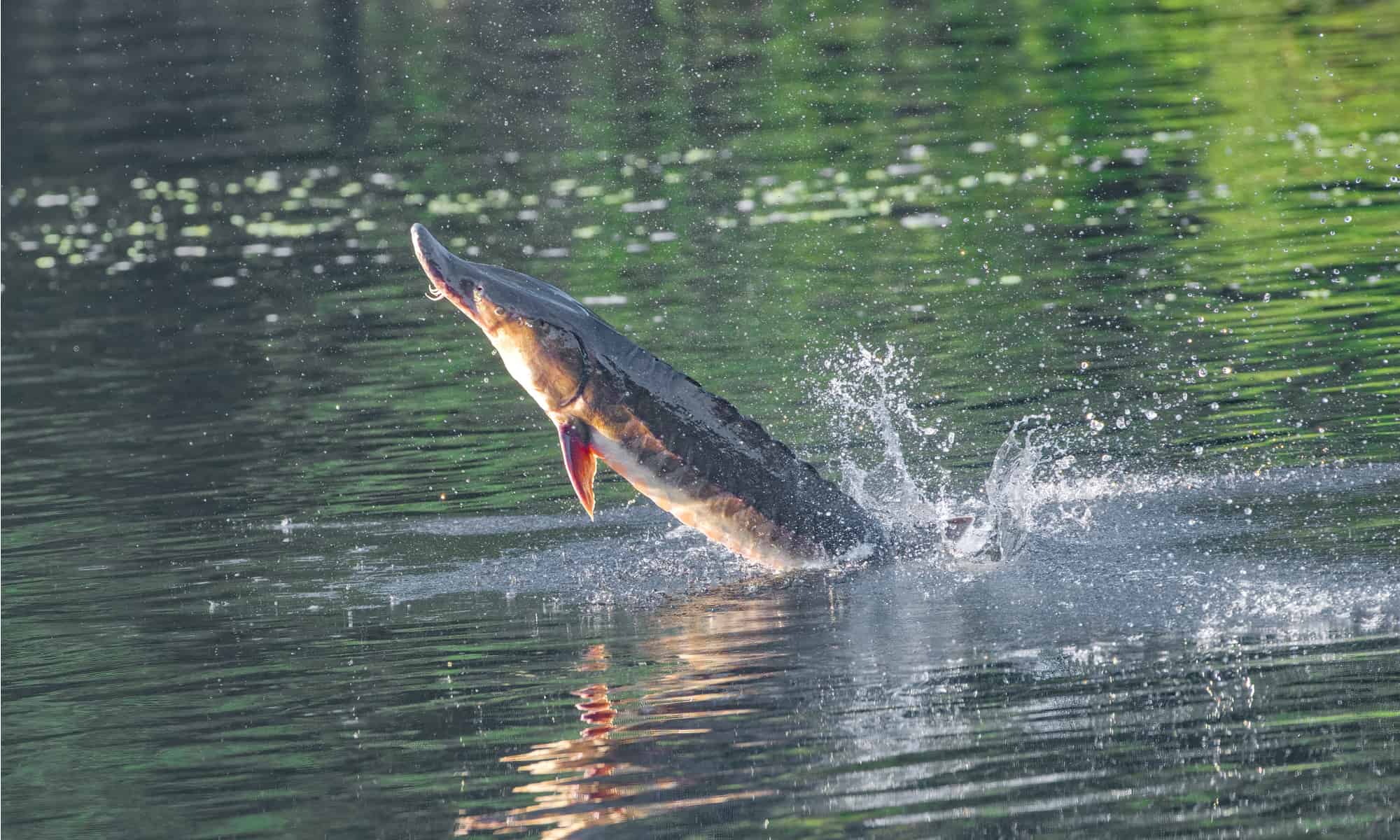 Sturgeons, or "living dinosaurs," evolved over 200 million years ago. These ancient fish can live up to 50 years, weigh 300 pounds (0.14 t) and grow over 6 feet (1.83 m) in length. As impressive as these creatures sound, they're on the endangered species list, and it's relatively rare to spot one in Mississippi today.
paddle fishing
The paddlefish is an unusual looking creature with no teeth and a large mouth and can grow up to 2.13 m. It has no natural enemies, but it only eats plankton. Its ancestors lived more than 200 million years ago, and its closest relative in modern times lived in the Yangtze River, but is now extinct.
Interesting Facts About the Mississippi River
The Mississippi River was once five miles wide and whales swam on it from the Gulf of Mexico. Archaeologists have found whale bones in Michigan.
The river was artificially forced through New Orleans through a series of lock gates.
The Mississippi River temporarily receded after a series of earthquakes shook the valley in the early 1800s.
On April 27, 1865, the steamer Sultana exploded and sank to the bottom of the Mississippi River, killing more than 1,500 people.
More than 7,000 rivers flow into the Mississippi.
Its widest point is where the river forms Lake Winnibigoshish, over 11 miles (approx. 18 km).
Ralph Samuelson invented water skiing on the Mississippi River in the early 1900s.
A Slovenian swimmer swam the entire length of the river in 68 days.
A single drop of water takes 90 days to travel all the way down.